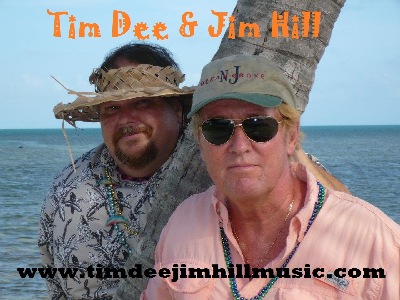 This Trop-Rock duo, Tim Dee (guitar and vocals) and Jim Hill (percussion and vocals) are heavily influenced by the likes of Jimmy Buffett, Bob Marley, and local favorites. They have been perfecting their Florida Keys song writing and have pleased crowds for the last 4 years from Key Largo to Key West. They also showcase their harmonies with covers of favorites such as the Beatles, Eagles, and others.


Tim Dee is a singer/songwriter originally from Buffalo, New York, who has been entertaining crowds since 1984. After a successful career as a solo artist, as well as playing with top name Buffalo Bands, Tim traded his cold Buffalo winters for a life in the sunny Florida Keys in 2005. Since 2005, Tim Dee has released 5 CDs and has teamed up with vocalist/percussionist Jim Hill, forming an acoustic Trop-rock duo, singing their original songs about life in the Florida Keys, as well as popular cover songs by artists that have inspired the duo.


Jim Hill, a New Jersey native, who divides his time between the Jersey Shore and the Florida Keys, has performed with various musicians in bands and duos since high school. As both a lead and harmony singer, Jim has added percussion instruments to his repertoire since joining Tim Dee. He has performed with national touring Trop-rock bands in Key West at venues such as Sloppy Joe's and Hogs Breath Saloon.



BOOKING INFO contact
TIM at 305-407-7021
or JIM at 201-841-5868

E-Mail:
Tim: timdeemusic@gmail.com Jim: floridaza@aol.com

Find us on Facebook at: Facebook.com/timdeejimhillmusic

Tim Dee's original CD, "Southernmost Songs" is available at www.CDBaby.com;.

The latest CDs, "It's an Island Thing", and the Duo's "Here In The Florida Keys" are available at live shows.



Tee shirts are also available at shows, or contact Tim or Jim (phone/email above) and mail can be arranged.

Some of our happy friends modeling!

@ Clancy's Tavern, Neptune NJ

@ Porky's Bayside BBQ with Capt. Willie!

@ Dockside, Marathon FL

@ Sunset Grille, Marathon FL

@ Dockside, Marathon FL